Any smart inbound marketer "gets" that once you've done all that hard work to get visitors to your website, the next phase is converting them into leads for your business. In any case, what's the most ideal approach to get them to change over? A properly created landing page is the best solution in this regard.
Landing pages are the heart and soul of an inbound advertiser's lead generation efforts, so why are they still so underutilized? MarketingSherpa states that the most obvious reason that businesses are unable to properly use landing pages is because their marketing department doesn't know how to set them up or they are excessively overloaded.
Here are 4 key things you must know about lead generation via landing pages.
1. Best Way for Guiding Customers to a Landing Page
One of the best approaches to do this is to make a group within your social networks and blogs. Provide your audience with helpful content and arrange exercises (contests, reviews, and so on) to attract an audience. This will help you create a reliable audience and bring them to your landing page as a source of fresh leads.
Obviously, creating a loyal community may take some time and time is money. There are quicker ways to attract visitors to your landing page. For instance, logical promoting and targeting within social networks. When you have engaged enough visitors, you have to get into the "trust zone" of your naturally created leads using targeted email newsletters.
2. Making It More Engaging.
A powerful landing page is one that best suits the character of your target audience. While searching a landing page, visitors must discover something they can be in connection with. Consider your offers carefully and remember that building trust is a key among the most crucial aspects in attracting an audience. If clients trust you, they will provide you with their email addresses.
Obviously, an excellent landing page design is also important. Pick a landing page theme that best fits your business.
3. Common Mistakes while Creating Landing Pages:
Mainly, there are two basic mistakes that marketers usually make while creating landing pages:
Lack of research in getting to know their target audience and, therefore, use an irrelevant header.
Lack of vision about where to get traffic. Before you create a landing page, make a clear plan of where your leads will originate.
4. Role of Mobile Communications with Landing Pages:
Today, the mobile landing page is very important for generating leads. Steadily people are searching the Internet using their cell phones. Indeed, even at home, they use tablets rather than desktop PCs. Previously used bulky sites are no longer exciting. Responsive configuration is an absolute requirement. Apply the "one-touch rule" for your mobile landing page to make it simple for clients to sign up on a tablet or a phone.
Fortunately, there are various marketing software solutions accessible to marketers, like the Makesbridge Landing Page tool, that makes landing page creation and setup sharp and simple for any marketer. No waiting days or weeks for your webmaster or IT resource to do it for you; you can make landing pages in minutes!
Get Our FREE E-Guide:
If you are facing some problem with your online campaigns and observing low conversion rate on  landing pages, we have a solution for you. Download Makesbridge E-Guide on "Landing Page Best Practices" and obtain better and faster results.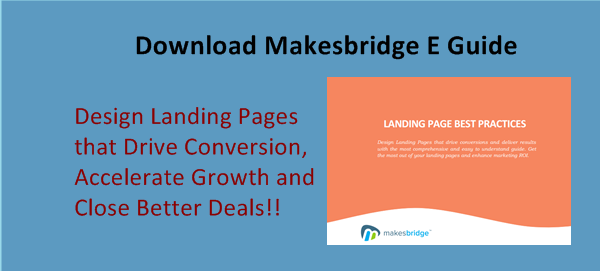 ---
 Related Posts: