Oath, Inc., a Verizon company that owns AOL and Yahoo, announced earlier this month that it will gradually merge its Yahoo and AOL email infrastructures. On February 22nd, marketers saw AOL results drop to almost zero opens across all ESPs.
Such cause of the drop is more likely due to service outages we should expect by a mega scale cut over.
We are working closely with our network of AOL and Yahoo contacts to ensure Makesbridge customers receive timely, relevant information to minimize email program disruption. The likelihood of technical issues notwithstanding, the event is a sober reminder of what AOL delivery will look like when the transition is complete. It will be just as difficult to inbox at AOL as it is at Yahoo and Gmail. To date, AOL has been relatively liberal with allowing bulk b2c email through its gateway; and this will change.
What does this mean to senders?
Sound Data Marketing And Audience Management – Batch and blast senders who relied on AOL delivery will face deep challenges. Senders who follow data marketing strategies and reduce sends to inactive audiences will fair much better.
Filtering – As AOL Domains are migrated to the Oath MX records and the consolidated infrastructure, it will be subject to Yahoo's mail filtering and processing.
Feedback Loops – As AOL domains migrate onto the new Oath infrastructure, FBL reports will change as well. While AOL mailboxes are still served by the AOL infrastructure, FBL reports will continue to come from the AOL side. Once a mailbox has been migrated, FBL reports will come from Yahoo. Oath recommends subscribing to both while they consolidate their infrastructure.
What can you do to get ahead of it?
Keep a close eye on deliverability – Our ISP Delivery Dashboards are critical to ensuring you have the most accurate view into delivery success. Our dashboards monitor new openers and daily openers from major ISPs.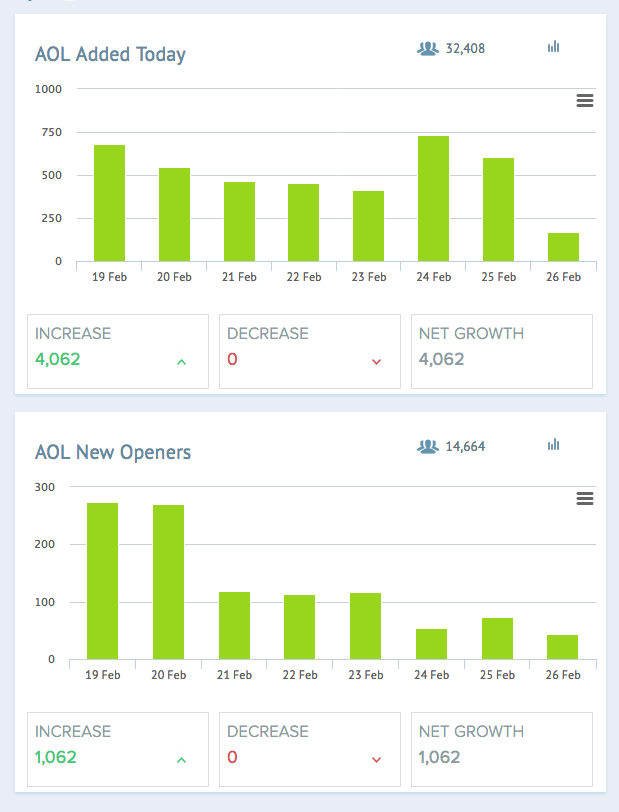 Senders use ISP delivery dashboards to see where they're strong and where delivery momentum is lagging
Can Makesbridge help?
Of course! While we expect the impact to be minimal, we know questions will come up, and some senders may be more impacted than others. Please reach out to your Account Manager with questions or use this link to contact us.