Researchers like Return Path, Marketing Sherpa reveals that over 10% of your emails are bad, and only less than 44% of your emails are delivered! So, before you blame your Email Service Provider, let's find out what is list hygiene and why it's critical.
List hygiene is about regularly removing the dead weight – like inactive contacts, undeliverable, complainer, Role, spam-traps and bots.
Keeping your list clean pays off – in your monthly plan and in your email metrics. Let's dive in and start clearing the clutter!
Digital Pitfall
Majority of marketers still wrongly believe the bigger list, the more valuable it is. But many studies have shown that the engagement metrics are what matter most.
Quality wins over quantity. It's better to have a database of 10,000 subscribers who want to receive your emails, VS 100,000 subscribers who don't.
On the other side, "Blasting your emails to an unqualified list could result in account suspensions from your email platform, penalties, or even fines, not to mention dismal marketing results"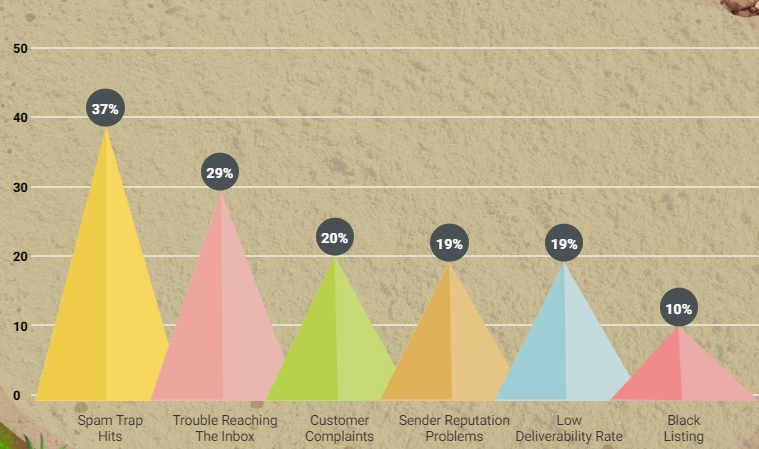 Rewards of List Hygiene
Increases IP/Domain sending reputation
Safeguard against blacklisting
Broaden the revenue opportunity
Lowers the email sending cost
Increases engagements (open & click activities)
Maintain reputation & relationship
A couple of months ago, Makesbridge launched list hygiene services and we worked with several senior customers to analyze the result before announcing it officially.
We found list cleaning is indeed effective and Makesbridge has helped many customers with this hidden but critical problem.
Companies having deliverability issues before have seen 25% more engagements due to Makesbridge cleaning up their email database, and re-engagements have climbed up to 50% and more in some cases.
As our esteemed customer/trial user, we welcome you to have your "list check-up" (up to 2,000 records) and spot the bad addresses causing bad reputation.