Choosing the right software/platform for your business is a very complex decision. One has to consider business needs, software utilities, feature set, its scalability, price, and available options before making the final choice. However, there are times when you've a short list of iconic names but you can't make the choice. In many cases, people go for an industry leader or some highly respected name but that turns out to be a flawed decision. The reason; they are either over-priced, or unable to scale with the particular business needs. The purpose of this article is to help marketers make the right choice when it comes to picking up the right marketing automation platform.
In this post, we aren't going to give you introduction and in-depth feature comparison of Makesbridge and MailChimp; instead, will share the words of the users. Both platforms enjoy respect and have been here in the market since long; however, one has to ensure that the option she picks, turns out to be a blessing not a burden.
Let's Begin!!!
Customer Support:
This is one of the biggest concerns for many software users as they need to learn and understand it while using. On this front, we found that Makesbridge enjoys pretty good repute of excellent customer support. From Salesforce to TrustRadius, it enjoys 5 star rating.  The support team goes above and beyond to make sure everything is taken care of. Makesbridge is great at keeping their customers in the loop without bogging them down with SPAM. Conversely, MailChimp is facing negative reviews about their customer support and we've even found people going away from them, just because of their poor customer support.

Here's an excerpt from a customer review on TrustRadius. It's by a customer who previously used MailChimp and now moved to Makesbridge. Check out their key concerns and factors that forced them to change marketing platform.
"We are using Makesbridge to send out our monthly newsletters, our 10GigE Digest every other month, and for tracking conversions etc. It addresses the need to automate some of the marketing tasks by having everything I need all in one place. Previously to send out our monthly emails we were using MailChimp. Not only do they offer little or no support, we were constantly hitting road blocks using their service. When we wanted to integrate MailChimp with Salesforce, I knew we would need more than an email support response system. Anytime I contacted them, it took them 3+ days to respond with a "Generic" answer, it was very frustrating. I found Makesbridge and selected them because they came HIGHLY RECOMMENDED and they didn't disappoint."- Michelle Rogers, Director of Sales, Emergent Vision Technologies, Inc. (Read complete review here)
CRM Integration:
Marketing automation systems don't work all alone. In many cases, companies tend to integrate them with social media apps like LinkedIn and CRM solutions, particularly Salesforce. CRM and sales automation are among the key features of Makesbridge. Makesbridge offers tight and simple integration with Salesforce, NetSuite, Google Apps and Highrise. Here, you can easily create a campaign, and the members are then added to any email campaign.
On the other hand, MailChimp is unable to satisfy its customers that have mid to large size businesses and require greater integration with CRM and list segmenting. Comments like "When we wanted to integrate MailChimp with Salesforce, I knew we would need more than an email support response system" elaborate the story pretty well.
Intelligent Workflows and Proven Processes:
Makesbridge does a good job in providing its customers with customizable workflows that can automatically send email marketing messages, update lead scores, send sales alerts, and even sends direct mail. Proven processes are an added advantage that help users follow the success path; instead of exhausting his abilities and wasting time.
MailChimp also allows you to create a series of emails that send to your subscribers based on the trigger criteria and schedule you set. However, this feature is available only for a Pro users. The work flows and proven process facilities seem unavailable at the company and those available are at higher cost.

Drip Marketing & Lead Nurturing:
If you pick out the single marketing automation feature that is in high demand, it is lead nurturing. As per reviews, Makesbridge has been pretty good in satisfying customers for Salesforce drip marketing, nurture tracks, and general drip campaigns. Above all, all activity can be recorded easily in the contact/lead record within your Salesforce account. This helps you learn what content on the site is engaging customers, attracting visits, and which email campaign seems successful.
"Makesbridge is fantastic for drip campaigns. There is a lot more that can be done with workflows but I only need basic campaigns right now. It is perfect for what I am doing. That is what I love about them. They give the smaller companies a chance to scale down or up where needed." – Bryan Barnes, CEO, LA Pool Guys (Read complete review here)
MailChimp, on the other hand introduced this feature in 2014 but that is still not much popular. In addition, the release faces many limitations that may spoil the entire user experience and utility.
Pricing:
This is probably one of the biggest strengths of MailChimp as they offer a free account. Comparatively, Makesbridge has a FREE 30 days Trial to its new customers. In addition, with Pay as you Go facility, users can start their account for as low as 99¢/Month. Then, both companies have a range of packages that one can subscribe as per budget and business needs.
Now, should we assume that MailChimp has a "Free account" advantage over Makesbridge? The answer is "No" because if the purpose is utility and feature-rich marketing automation experience, it's not there in MailChimp Free account. It has strict limitations and can't fulfill needs of a small enterprise. More importantly, it is email only solution without any access to analytics or market intelligence. So what's the advantage then??? You can obtain price advantage at Makesbridge without any feature limitations by opting for Pay as You Go program. Here, the set up cost of Makesbridge is less than $1 while MailChimp demands a minimum of $9.
A MailChimp customer shared this on TrustRadius:
"MailChimp is appropriate for single list, simple use, or for those who are very price sensitive and send more than 10K emails/month. It is less appropriate if you plan to do a lot of segmentation, link to a CRM, or if your constituents are intent on receiving all of your emails…………………If they shut down your campaign, they don't email you or alert you in any way." Anna Hazel Crotty, CIO, Mission Edge San Diego (Read Complete Review here)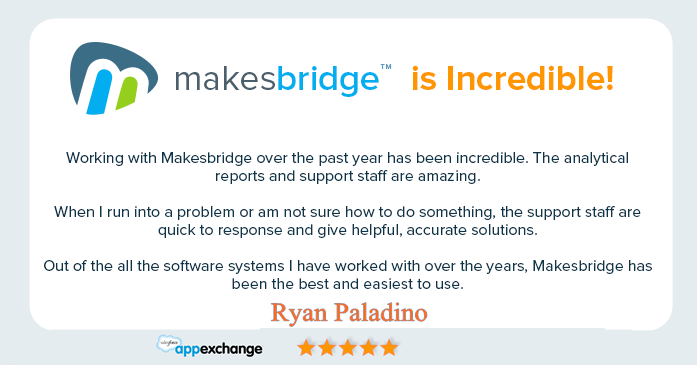 Conclusion:
The reason people love MailChimp is its price and basic email facility. It's one of the best solutions for getting started stuff. However, if you are looking for a full-fledged and reliable marketing automation experience, MailChimp isn't the right product for you. Additionally, their support facility is also not ideal.
Conversely, Makesbridge has 10 or 9/10 rating for the features and marketing automation experience. From nurture tracks to CRM integration, landing pages to deep analytics; there are a range of things you enjoy at Makesbridge. On the pricing end, you can subscribe as per your budget or even go for a Pay as You Go account. Be it Salesforce App Exchange or TrustRadius, the company enjoys 5 star rating for its customer support, platform reliability and user experience.
MailChimp and MailChimp's logo are registered trademark of MailChimp. Information provided in this article was verifiable at the time of publication. In case you find any factual error in this article, please let us know by sending email to support@makesbridge.com. You can also reach Makesbridge at Twitter and Facebook.
---
Related Posts:
---