Makesbridge is good at what they do, that's why they are one of the most well-known marketing automation platforms on the Internet. But, they are not the only tree in the forest. There's actually quite a few of them that offer core functionality a business needs to successfully generate leads and automate their marketing and Constant contact is one of them. In this blog, we will elaborate 7 key distinctions between Makesbridge and Constant Contact. The purpose is just to help you make the right choice before subscription.
1. Integration:
Makesbridge is known for the flexible integrations with the Salesforce.com, NetSuite, Google Apps and Highrise. The strength of their integration is based on how straight forward it is, the ability to automate recurring imports and choose which contact data fields you wish to import.
Constant Contact offers limited integration with Salesforce and lacks Google integration which mark a big drawback for marketing managers who want to market to their CRM and cloud-based databases.
(Ratings compiled from TrustRadius Review)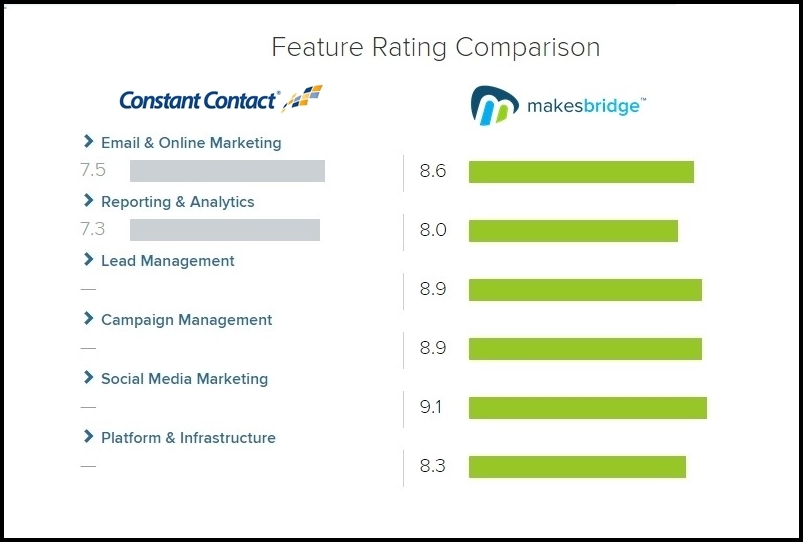 2. Data Optimization:
For campaigns to develop effectively over time, performance data is the key. If you are unable to effectively compare campaign performance, you surely will not be able to optimize and improve. Constant Contact lacks the ability for convenient comparative drip message, mass blasts and auto-triggers for deeper analysis of what's working and what's not.
3. Segmentation & Targeting:
Makesbridge allows users to easily and effectively segment and market to an audience with targets, lists and tags. Using Makesbridge, you can divide and target your contacts by their attributes are, how they interact with your website and their lead score. What's more, you can dynamically load content into emails based on all your static data fields. For example, if you can dynamically merge content in based on last product purchases.  And , deep analytics at Makesbridge help you plan and execute effective retargeting campaigns as well.
Constant Contact is very capable to fulfil demands of small businesses. However when it comes to segmenting on the fly it lacks important functions which makes it less preferable for SMB and above. The notable challenge is the amount of manual work it takes to segment. Users share frustrations with having to export different list and re-combine them as a means to segment. On a related matter, the poor support for working with Salesforce data fields creates a lot of export work from that CRM tool as well.
(Here's why people switch to Makesbridge)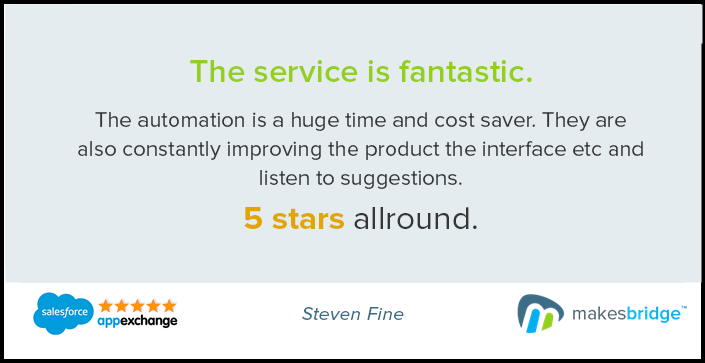 4. Custom Reporting and Analytics Dashboards:
Makesbridge is known for solid reporting and analytics that help users get the most out of their marketing, sales and business operations. To get deep insights into performance, users create a report mashup consisting of any combination of mass email campaigns, continuity message streams, web stats, online campaign performance and key performance indicators. For example, users can create a performance dashboard that provides a full run through of a Facebook Ad Campaign – From A to Z, the marketer will see traffic generated from the Facebook Ad, Landing Page Registrations, Email Follow Up Drip, how many sales calls were made to those people and how many are interested in buying.
Constant Contact offers basic reporting/analytics features. Its missing features like mix and match campaign performance reports and post-click web tracking to summarize results from a high level.
Makesbridge Custom Reports: Monitor Lead Growth by Source and Compare Which Responds Best To Your Messaging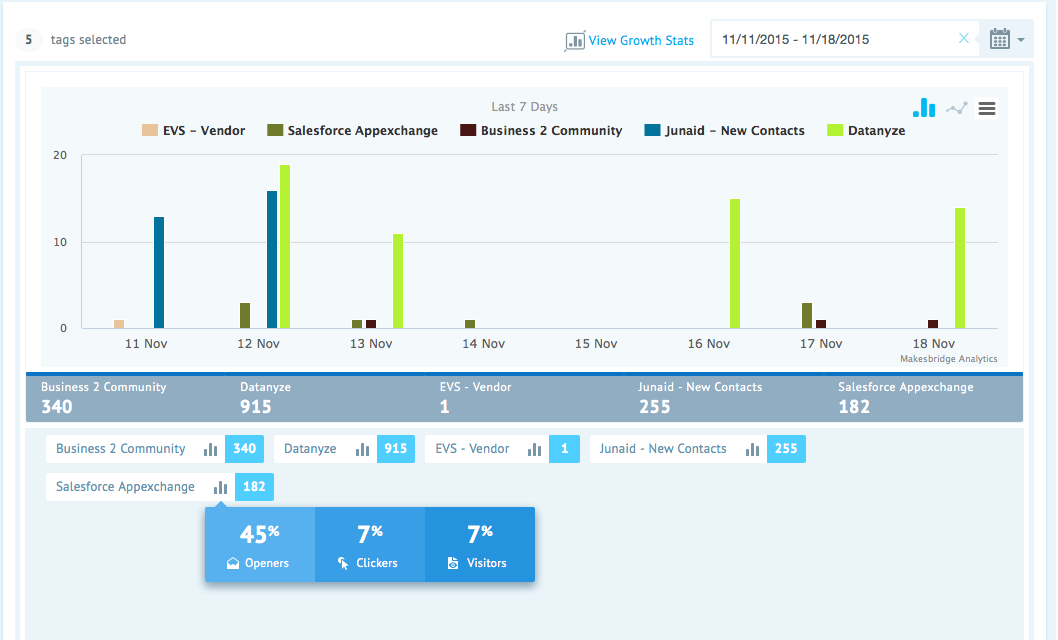 5. Technology:
Makesbridge is modular and scalable. Users can choose from mass email, marketing automation, B2B sales automation, B2B sale enablement, web analytics and business analytics. The amount of tech can be overwhelming, but Makesbridge deals with this issue by providing adoption roadmaps and custom deployment advice that's based on one-on-one discovery sessions with users.
Constant Contact is renowned for having a very solid and simple mass email tool. It has excellent survey tools, event management workflows and shopping cart integrations.
6. Pricing:
Makesbridge is offered on a Pay-As-You go basis and there is no long term obligations. The features are charged on an a-la-carte basis and a dedicated sales team works with you to decide what you need and can offer custom pricing packages.
Constant Contact is the default for many small businesses because it is very good platform for the price. However, the competitiveness from a price perspective wanes as the number of hosted records increases.
(Here's why a customer converted from CC to Makesbridge)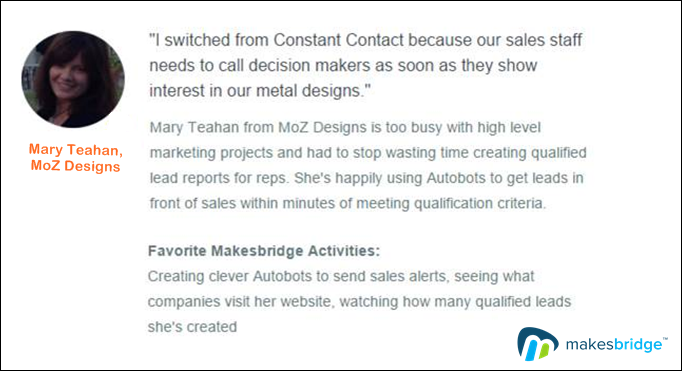 Customer Support:
The BEST thing about Makesbridge is their dedicated help desk employees. From the time of trial signup, their support team diligently works to understand users' unique business challenges and pains they want removed. The deployment team follows a standard discovery protocol that one may expect from a platform that offers such a diverse set of solutions. Users never have to wait to get a problem resolved. They are always willing to walk the user through processes. Read reviews on Appexchange
Constant Contact is a giant and the level of attendance to individual needs reflects their standing. Customers have expressed frustration with not having one-on-one support for their challenges. To it's credit, Constant Contact has designed it's features, pricing and support system towards being a mega-scale solution. So the support is a fair trade off and good enough for most small businesses with simple marketing needs and challenges.
Constant Contact and Constant Contact's logo are registered trademark of Constant Contact. Information provided in this article was verifiable at the time of publication. In case you find any factual error in this article, please let us know by sending email to support@makesbridge.com. You can also reach Makesbridge at Twitter and Facebook.
---
Related Posts: